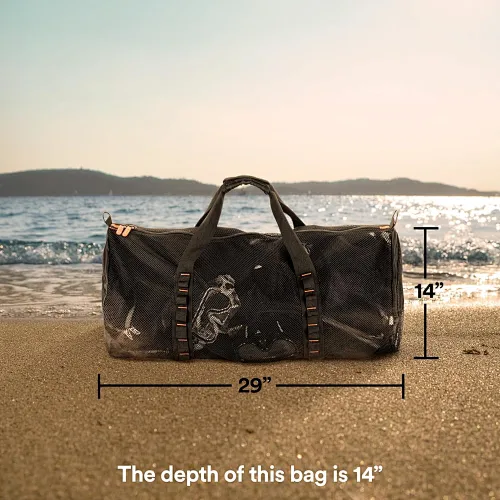 Large Mesh Duffle Bag for Scuba Dive or Snorkel Equipment Best for Water Sports & Beach Activities for Swimming Diving & Snorkeling Perfect for Travel Storage Swim Gym Gears & Balls Beach Mesh Bag
Mesh & Polyester
KEEP YOU GEARS DRY AND CLEAN WITH EASE – Size at 29"x14"x14", it is constructed from water resistant mesh which helps to keep your gears dry fast. Never have to worry about mildew built up or losing your equipment in the sun, just place them in the bag and let nature do its job. Having problems with sand in the bag? No worry, just shake it off through the mesh.
QUALITY MATERIAL & DURABLE CONSTRUCTION HOLDS 30LB – Unlike other mesh duffle bags in the market, we only use quality mesh that is UV resistant and able to withstand bending and stretching. This allows it to hold all sizes of gear effortlessly. This bag is also reinforced by 4 high strength panels so you can even store heavy equipment.
WATER RESISTANT POCKET TO KEEP YOUR ELECTRONICS DRY – 3 pocket design for all types of gears. 1 side mesh pocket for small gears. 1 large main pocket for large equipment. 1 water resistant pocket for phone and keys to prevent them from getting wet. It is the only bag you need for your water sport outing to help you stay organized and worry free.
SECURE YOUR INVESTMENT WITH HIGH GRADE ZIPPER – Luggage grade zipper that can withstand impact and normal wear & tear. It also provides smooth closure so you do not have to struggle.